1
FRIDAY OPENING 24/04/09 (6PM - 9PM)
01: SANDRA ERBACHER
02: SEBASTAIN CRAIG
03: LARRY ACHIAMPONG
SATURDAY 25/04/09 (1PM - 6PM)
04: JOHN CUSSANS
05: YES. YES. I KNOW. FREE SCHOOL. I KNOW. OPEN DISCUSSION
06: SIMON ELMER
07: ESTHER PLANAS
08: PAUL BUCK
SUNDAY 26/04/09 (1PM - 6PM)
09: NEIL FERGUSON
10: RESEARCH ASSESSMENT EXCERCISE: ART, EDUCATION AND TEACHING. OPEN DISCUSSION
11: TAKASHI NISHIDA
12: ALEX SCHADY
13: SHANE WALTENER
2
SATURDAY 02/05/09 (1PM - 6PM)
14: DAVID AUGUSTINE
15: ARNAUD DESJARDIN
16: LEE CAMPBELL
17: LCF PICTURE GROUP
18: LCF PICTURE GROUP
SUNDAY 03/05/09 (1PM - 6PM)
19: MELISSA BLISS/ MATT GOLDEN
20: AMI CLARKE/ HARRIET MURRAY & NEIL TAYLOR
21: NAOKO TAKAHASHI/ SHAUN DOYLE & MALLY MALLISON
22: RACHEL CATTLE/ MIYUKI KASAHARA & CALUM F KERR
23: PAUL MART/ SHANE BRADFORD & PATRICK LACEY (ABAKE)
3
SATURDAY 09/05/09 (1PM - 6PM)
24: JOAO PAULO DA SILVA
25: MIRIAM CRAIK-HORAN
26: LEVIN HAEGELE
27: NELA MILIC
28: CHIARA MU
SUNDAY 10/05/09 (1PM - 6PM)
29: MARIANNA LIOSI & ALESSANDRA SAVIOTTI
30: PAUL J TAVARES
31: MICHAEL CURRAN
32: SO GOOD. SO WHAT: MYTHOLOGIES OF THE ARTIST-RUN INITIATIVE. OPEN DISCUSSION
33: ISLINGTON MILL ART ACADEMY
REVIEW: Sarah Hegenbart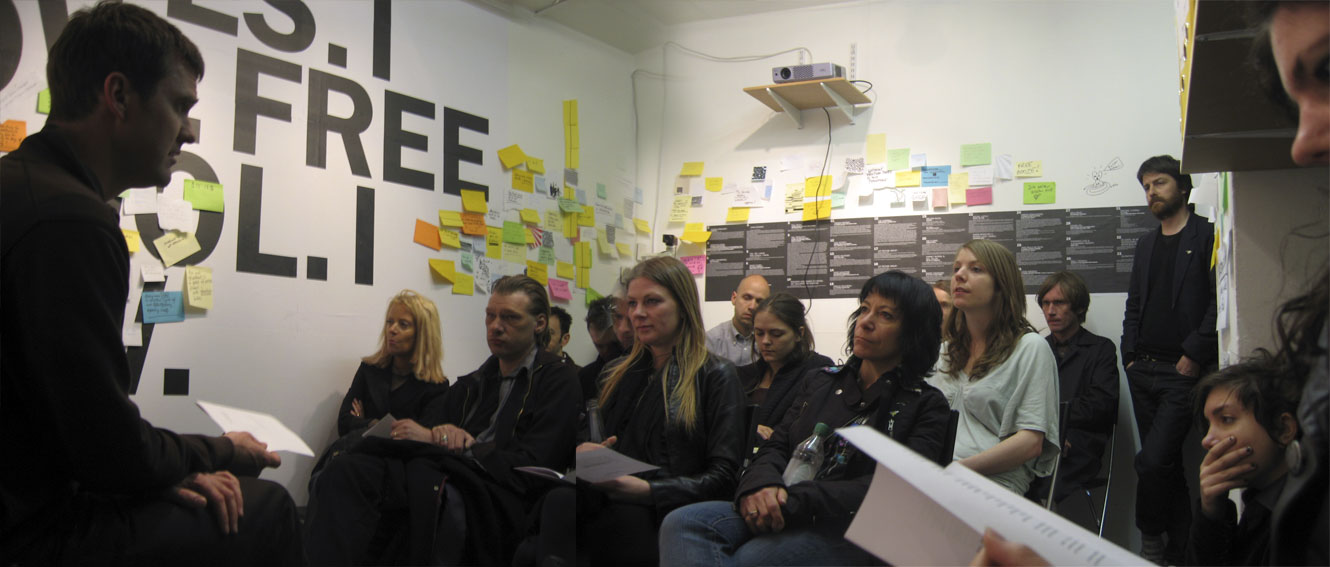 Simon Elmer: Art, Ritual, Community: Reflections on a failed experiment.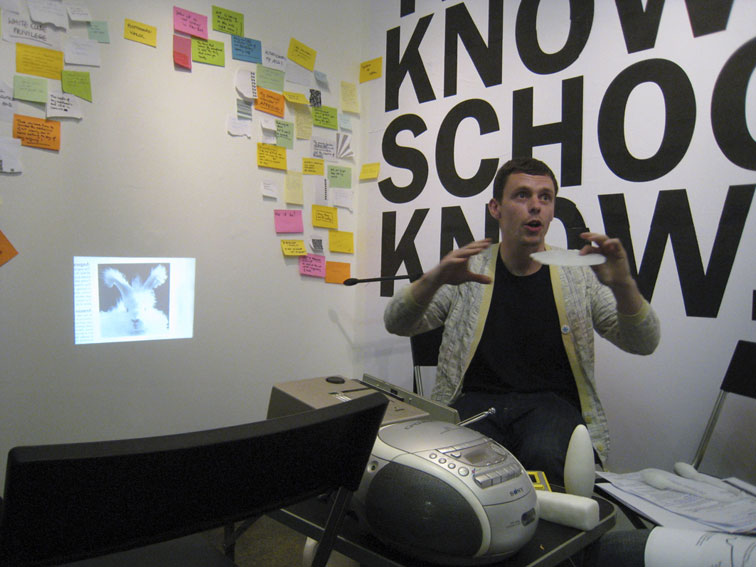 Sebastian Craig: Strands of Architecture.
A contemporary re-working of an undocumented 1980's lecture on textiles routed specifically via Architecture, anti-ballistic fabrics, drum & bass and the Elderly.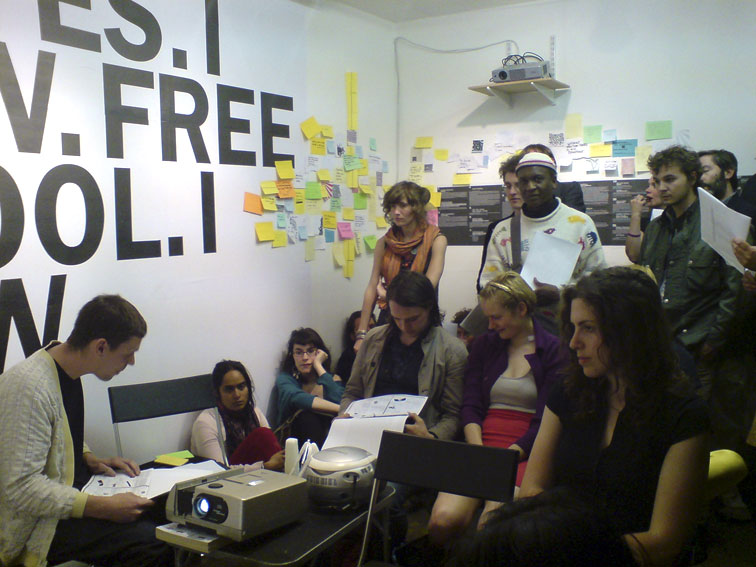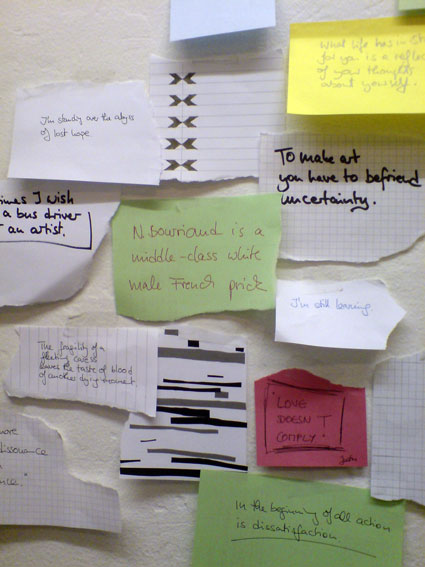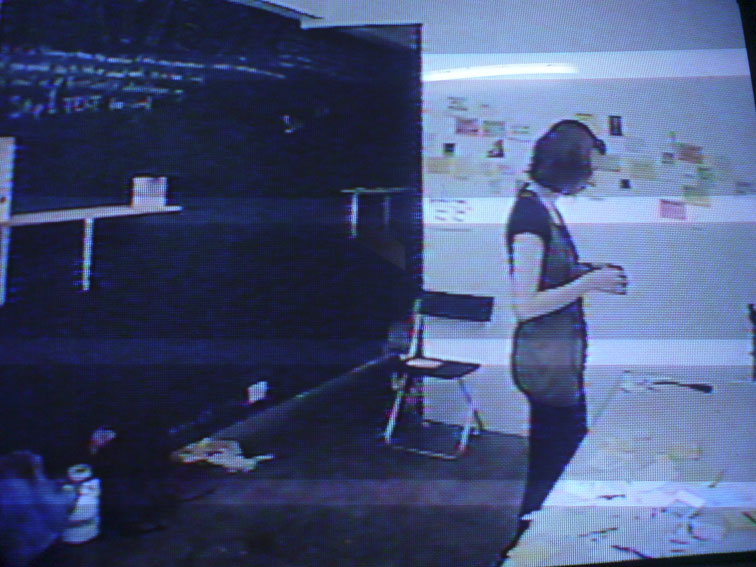 Sandra Erbacher: Wordology
Participatory. Drawing. Installation. Performance. Free Flow. In and Out. Give and Take. Stream of Consciousness. Manifests as Writing on. Post-Its covering Walls. To Add and Take Away. Two-Way. Channel of Commune-ication. Audience-Artist. Artist-Audience. Crossing. Boundaries. Public-Private. Soc-I-ety. Meaning-Making. Perception is Projection. How to Unlearn. The Institutional Erasure of Consciousness. Share Knowledge. Insight. Wisdom. Disrupt the White. Cube. Temporality carries the Seed. For Intervention. De-colonize your Imagination. Externalize. Ask Questions. Reject Isms. Always. Movement. From the Margins to the Centre. Process. Based. Every Action. Draws. A Reaction. School of Life. Free. Fall. Peace. Out. From the private view onwards the audience can contribute to the writing and adding of notes or take them off the wall and take them away. The installation can be kept for an hour, the rest of the day or longer. Notes could be published after the show.

Paul Buck: Absence makes the heart grow fonder (Re-presentation)
A re-thinking and re-presentation of the improvisation/performance collaboration between Steve Benson & Paul Buck that was initiated and evolved during March 2009 at The Apartment show in Mare Street.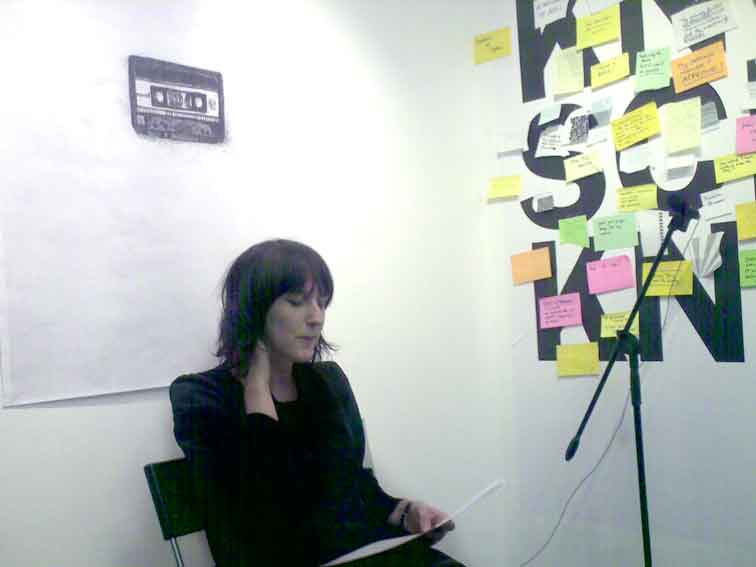 Rachael Cattle: Escape. Mix Tape
Taking the idea of the mix tape, (a collection of favourite music tracks), the Each Teach session will take the form of an illustrated lecture featuring readings (tracks) from my own and others writings based around notions of 'escape'.
How to escape? Music? Film? Drawing? Stories? The Wild? Can these things form a basis for 'transendence' from 'every day' life? Each 'track'/reading will be linked like you would a mixtape and each accompanied by a slide or projected image.
To accompany the lecture I may produce a publication (mix tape) which will document my chosen texts. Readings may include excerpts from Thoreau, Kafka, Proust, perhaps some song lyrics etc etc as well as my own texts. Essayist Geoffrey O'Brien has called the personal mixtape "the most widely practiced American art form", and many mixtape enthusiasts believe that by carefully selecting and ordering the tracks in a mix, an artistic statement can be created that is greater than the sum of its individual songs... From an aesthetic point of view, many enthusiasts believe that because a tape player, unlike a CD player, lacks the ability to skip from song to song, the mixtape needs to be considered in its entirety. This requires the mixtape creator to consider the transitions between songs, the effects caused by juxtaposing a soft song with a loud song, and the overall "narrative arc" of the entire tape.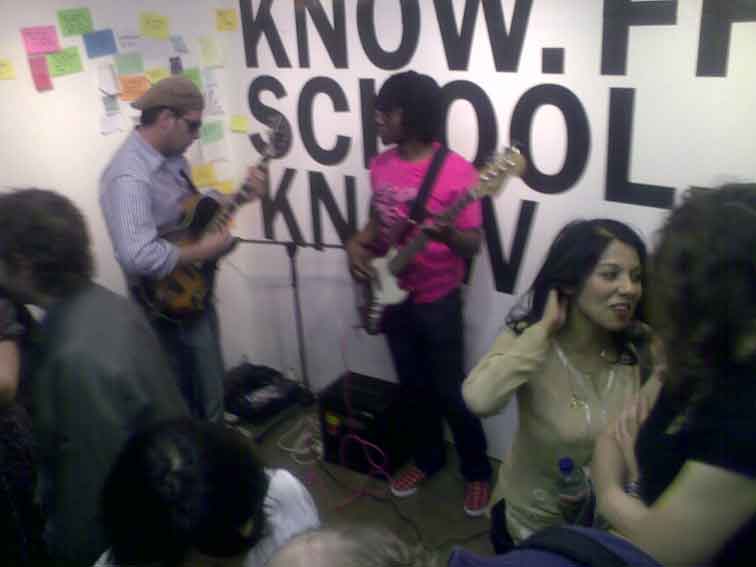 Larry Achiampong: Jam In The Dark.
"Ok, its as simple as ABC…I create a dark space, I'm talking pitch black, so no one who enters can see us and we cannot see each other. We take our instruments into this dark space with the emphasis of improvisation in mind, but we take it that step further. We rely on each other's sense of sound and feeling to communicate with one another, meanwhile the audience becomes bound to this void of nothing to see and everything to hear and feel. It's like the heat of a club night but without the silly sparkles, or a meditation in the presence of people you cannot see. It's a personal and interpersonal experience all at once. It's a cycle of service by letting go, giving back and receiving! JAM IN THE DARK!" JAM IN THE DARK can be straightforward or complex, depending on how one perceives the experience. It houses a variety of musicians who possess ranging instruments in a void where nothing can be seen, but all is heard and felt.The skill level of the musician does not matter (to a degree) The level of experience the musician possess does not matter (to a degree) The look of the artist, musician or viewers won't even matter because nothing will be visible, but all will be heard. JAM IN THE DARK abandons visual sensory to explore enhanced dynamics regarding the auditory, somatosensory, gustatory and olfactory systems. The first person experience of JAM IN THE DARK transcends that of the third person (i.e. archived footage). Like a "one time only" encounter, the vibes that are given out (from the musicians) and received (from the attendees) will always differ and no jam is the same since everything is improvised."The cover of the book is abandoned. The pages may take us anywhere."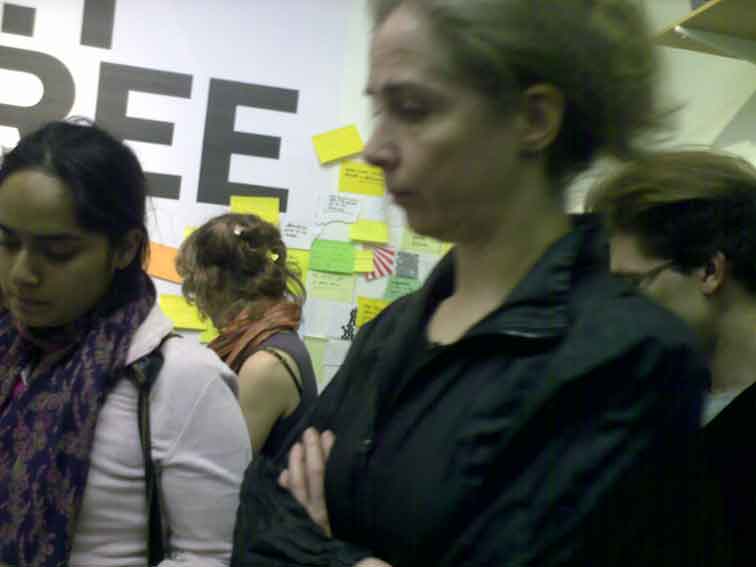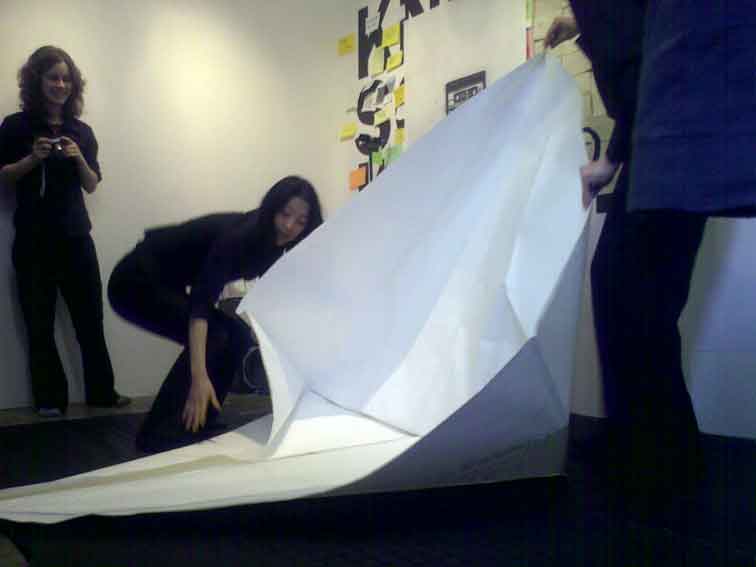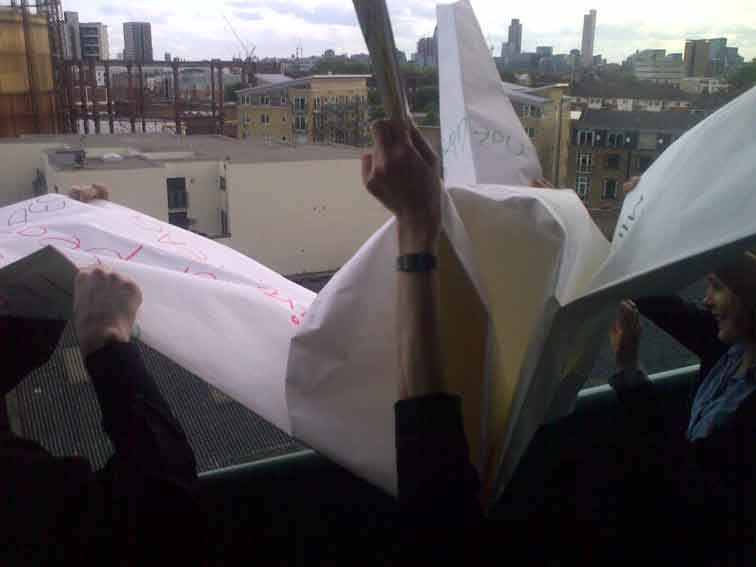 Miyuki Kasahara & Calum F Kerr: Gigantic Origami PEACE Crane(1:1000)
"Miyuki will teach the assembled how to make an Origami Peace Crane in Giant-Size. She will demonstrate this using a giant sheet of card then use it to make a traditional origami crane. The final crane will be over 4 foot long.This demonstration will be conducted entirely in Japanese with Calum attempting to give a translation and helping with the demonstration. At the beginning of the session the audience will be encouraged to write their wishes for peace on the blank paper that Miyuki is going to fold. They are welcome to use their own languages so there are many different languages. The audience will also be given pieces of paper to make cranes themselves. They can also write their wishes on the paper that they will be given to fold.At the end of the session we will go onto the balcony and launch the giant crane off the balcony so that it can to fly across London (or somewhere down below). Visitors are encouraged to launch their cranes off the balcony (as it is on the sixth floor) too. Japanese legend states that if you fold 1000 cranes then a wish will be granted on you. So participants are encouraged to make their silent wishes while launching it off. The making of 1000 cranes became internationally known as a symbol of peace through those made by a Japanese girl Sadako Sasaki who died in 1955 of Leukemia. This disease was contracted as a result of the Hiroshima bomb in 1945. So launching them with wishes off the balcony could represent a bombing raid or something much more hopeful."

Takashi Nishida: La Pensee Sauvage (The Savage Mind)
'[T]here is nothing savage or barbarous about those peoples… Those 'savage' are only wild in the sense that we call fruits wild which they are produced by Nature in her ordinary course: whereas it is fruit which we have artificially perverted and misled from the common order which we ought to call savage. It is in the first kind that we find their true, vigorous, living, most natural and most useful properties and virtues, which we have bastardized in other kind by merely adapting them to our corrupt tastes.' -
Montaigne, Michel de. Les essais
This piece is an interactive performance among body, sound and image as well as between audience and performance. In the space, "wild" animals produce music, create sound-controlled visual images and act at the same time by means of technologies. Moreover, they also provide tangible interaction with audience as participant in the performance. You will spontaneously accept this interaction, and it rather disarms us effectively and conveys a little happiness.
Stop thinking, forget about your snobbishness and restore the intuitive sense that we have often lost under the "civilisation." Just enjoy!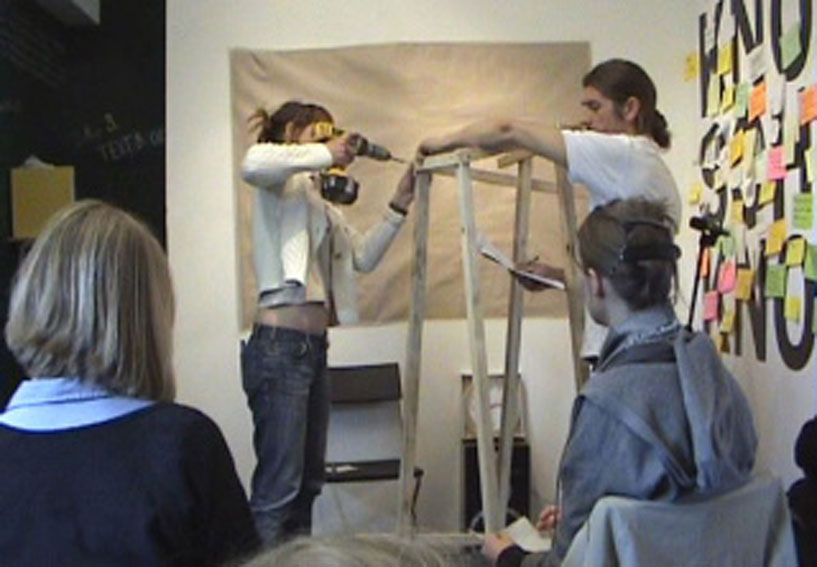 CampbellWorks: The Art Of Avoidance