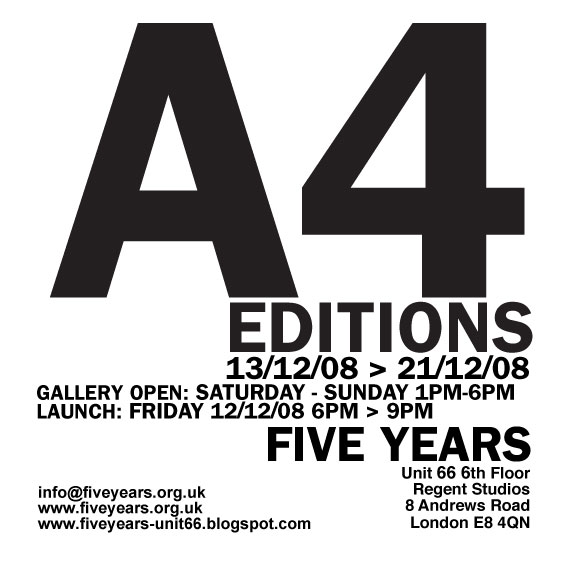 //// //// //// //// ////
//// //// ///

A4 EDITIONS
JO ADDISON, MICHAEL CURRAN, MICHELLE DEIGNAN, EDWARD DORRIAN, DUSTIN ERICKSEN, ROCHELLE FRY, ANDREW GILBERT, RODERICK HARRIS, CLIVE HODGSON, MARC HULSON, HEIKE KELTER, KLEGA, CEDAR LEWISOHN, PETER LLOYD LEWIS, REN LUCKHARDT, JAVIER MARCHAN, LOUISA MINKIN, SALLY MORFILL, SUSAN MORRIS, NURIA, DEIRDRE ODWYER, ESTHER PLANAS, JOHN RUSSELL, PAUL SAIKOILSKY, ALEX SCHADY, FRANCIS SUMMERS, ALICE WALTON, SARAH WOODFINE
On 12th December Five Years is launching a new project, A4 Editions, dedicated specifically to small scale works on paper and artists' publications.
For the launch event works on paper in A4 format by Five Years members and invited artists will be exhibited in the gallery.
In the long term A4 Editions will function as a bank / store for unique works, editions, multiples and small publications. This will be housed within the office space at Five Years. Work will be available for sale or simply to view on request. A4 Editions will also curate, commission and distribute special projects in printed form.
Launch exhibition runs 13/12 - 21/12/08 open Sat Sun 1-6pm
ALSO
PERIODICAL VOL.2, NO.1
SPITTING DISTANCE: MICK FINCH & GUILLAUME PARIS/ PAPER: VANESSA BILLY, DUSTIN ERICKSEN & GILES ROUND - CONCEPT: ROCHELLE FRY/ FREE SHOW: LULU ALLISON/ INGRID BERTHON MOINE/ SARA CAMPBELL/ MICHAEL CURRAN/ MARY CRENSHAW/ EDWARD DORRIAN/ ROBERT ELLIS/ CHARLIE TUESDAY WINNER GATES/ KIRSTY HARRIS/ TESSA HEWSON/ DENISE HAWRYSIO/ RONEE HUI/ PIERSJAMSON/ JAMES LANDER/ GEORGIE MANLY/ IAN MARSHALL/ PETER MARRIS/ DESPINA MEIMAROGLOU/ LOUISA MINKIN/ CLAIRE NICHOLS & MIRIAM CRAIK-HORAN/ ASIA NOWICKA/ MARK PAWSON/ DAVID PORTER/ SHANE WALTENER/ ANDREA LUKA ZIMMERMAN/ GARDEN OF THE SLEEP OF LOVE: DAN HAYS, RODERICK HARRIS, MARC HULSON & PETER LLOYD LEWIS TALENT SHOW: PATRICIA ELLIS/ IN THE PATH OF THE MOST FRIGHTENING STORM, AND SUFFERED TERRIBLE DEVASTION. IT ALSO SHOWS: ANA CAVIC & SALLY MORFILL/ MASKWORK: ESTHER PLANAS & MARC HULSON/ DONALD & BRENT: CLAIRE NICHOLS
The purpose of the periodical is to provide a parallel to the gallery space at Five Years: artists who have exhibited and curated at Five Years are invited to publish new work relating to their gallery show. Each issue covers three months in the exhibition programme and includes a written piece by a guest contributor. Vol.2, No.1 covers projects at Five Years from April to October 2008.
Price £2.50